Powder Feed Center for Automatic Powder Coating Line
1. COLO-6200 powder feed center is designed to a closed powder circuit that ensures a clean working environment.
2. Fully automated control simplifies operation as well as improves efficiency greatly.
3. All powder management and system controls are consolidated in one place, reducing factory footprint.
4. Supports fast cleaning process and quick color change, ideal for multi-color coating applications and powder coating lines.
Details
Box Feed Powder Funnel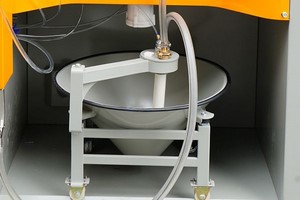 Allows to put the original powder box on the funnel directly.
Provides more flexibility and convenience to change powder color.
PP05 Powder Pump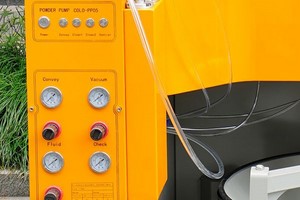 COLO-PP05 powder pump with reliable performance provides a long-lasting and stable powder output.
Less consumption of compressed air provides lower powder velocity, which reduces the wear of powder pumps and powder spray guns.
The proven pump and purge system guarantees complete cleaning of the entire powder circuit.
Powder Hopper designed with Ultrasonic Sieve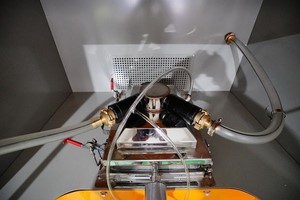 Sieves recycled powder and fresh feeding powder to remove powder accumulation and ensures uniform powder flow.
Free-swinging sieve surface requires less energy for ultrasonic sieving and enables efficient sieving performance.
Powder quantity detection ensures powder supply in a timely and constant manner.
Integrated Control PLC System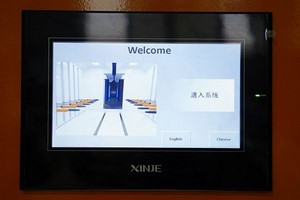 PLC system with touch screen integrates all functions you need.
Could control the whole powder coating line, such as powder feeding, powder recovery, spray booth cleaning, reciprocating, fan working and oven curing.
Specifications
| | |
| --- | --- |
| Model | COLO-6200 |
| Power Supply | AC 220V/110V 50Hz-60Hz (as required) |
| Frequency | 38kHz |
| Powder Hopper Size | 310*240*270 mm |
| Sieving Frame Size | 345*275*30 mm |
| Standard Mesh Size | 80 mesh |
| Mesh Size | 3-4kgs/min (depending on type of powder) |
| Power Consumption | Max. 100W |
| Ambient Temperature | 5-40℃ |